iPhone 14 price, release date and new features
Apple's forthcoming mass production of the iPhone 14 models, which are anticipated to be revealed in September, will only be slightly impacted, according to Kuo, an analyst. The iPhone 14 variants include the iPhone 14, iPhone 14 Max, iPhone 14 Pro, and iPhone 14 Pro Max.
Apple iPhone 14 Release date
According to current speculations from iDropNews, Apple will probably announce the iPhone 14 series on September 13, 2022, and release it to the public on September 23, 2022.
That's because the firm consistently and yearly chooses the following timeframes: Apple often announces its new phones on the first or second Tuesday of September and releases them approximately 10 days later, always on a Friday.
| | | |
| --- | --- | --- |
| Device family | Announcement date | Release date |
| iPhone XS-series | September 12, 2018 | September 21, 2018 |
| iPhone 11-series | September 10, 2019 | September 20, 2019 |
| iPhone 12-series | October 13, 2020 | October 23, 2020 |
| iPhone 13-series | September 14, 2021 | September 24, 2021 |
| iPhone 14-series | September 6 / September 13, 2022* | September 16 / September 23, 2022* |
iPhone 14 release date (prediction)
* – probable dates
iPhone 14 Price
According to recent reports, the price of the iPhone 14 Pro and Pro Max editions will be more expensive than earlier models. A number of variables, including more expensive components and the display in particular, as well as an overall price inflation across the supply chain, are to blame for the predicted price increase.
Ben Wood of CCS Insight also claims that Apple has been considering raising the price of all iPhone 14 devices by $100 but may eventually opt against doing so due to rising living expenses. Only the price of the iPhone 14 Pro and iPhone 14 Pro Max may increase, according to Apple.
Apple apparently still has the price increase on the table, especially outside of the US. If it does, the prices of Apple's lineup for 2022 might be as follows:
| | | | | |
| --- | --- | --- | --- | --- |
| iPhone model | 128GB of storage | 256GB of storage | 512GB of storage | 1TB of storage |
| iPhone 13 mini | $699 | $799 | $999 | |
| iPhone 13 | $799 | $899 | $1099 | |
| iPhone 13 Pro | $999 | $1099 | $1299 | $1499 |
| iPhone 13 Pro Max | $1099 | $1199 | $1399 | $1599 |
| iPhone 14 | $799-$899* | $899-$999* | $999-$1099* | |
| iPhone 14 Max | $899-$999* | $999-$1099* | $1099-$1199* | |
| iPhone 14 Pro | $1099-$1199* | $1199-$1299* | $1399-$1499* | $1599-$1699* |
| iPhone 14 Pro Max | $1199-$1299* | $1299-$1399* | $1499-$1599* | $1699-$1799* |
iPhone 14 price prediction
* – anticipated prices
It's worth noting that if a speculated significant camera upgrade materializes, the price of the iPhone 14 Pro Max particularly could increase. We don't expect a massive price increase for the remaining models, but if one were to occur, it would probably affect the Pro versions the most.
Check all the latest price of iPhone 14 Series.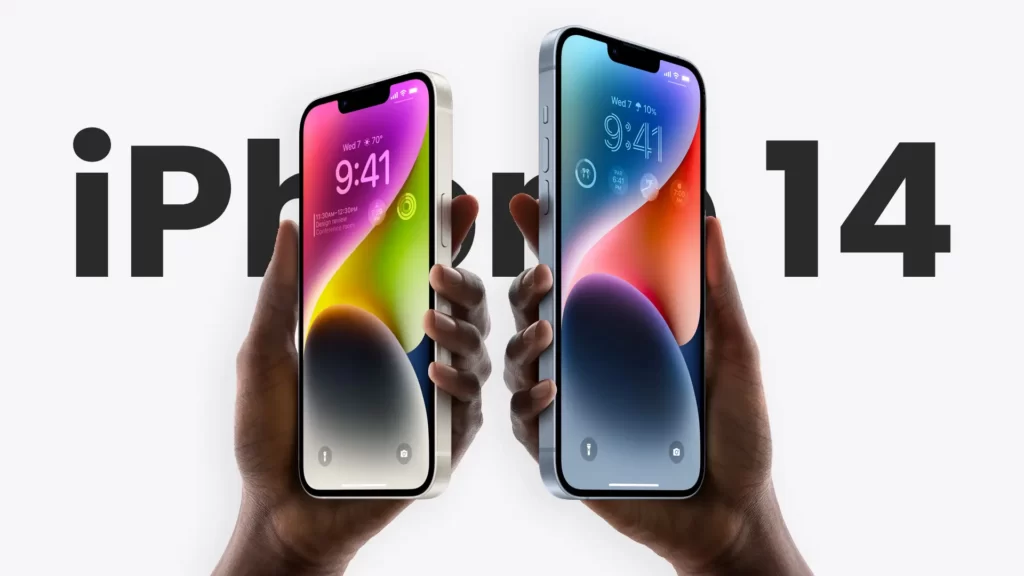 iPhone 14 and 14 Max models
we can to see 5 to 6 different color versions:
Midnight
Starlight
Sky Blue
Red
Purple
iPhone 14 Pro and Pro Max rumored colors:
iPhone 14 New Features:
No Notch and New Face ID Hardware Design (Pro Only)
Apple is trying to get rid of the notch that houses the Face ID hardware on at least some of the iPhone 14 models, notably the Pro ones. With the exception of a size adjustment for the iPhone 13, the notch hasn't changed much since it was first introduced as a design feature in 2017.
ProMotion Display
Early iPhone 14 rumours said that all four of the models, which will be released in 2022, would feature ProMotion displays with refresh rates as high as 120Hz, but it appears that won't be the case.
Cooling
High-end iPhone models starting in 2022 are probably going to use a vapor chamber thermal technology, which Apple is allegedly "aggressively testing." Due to their more powerful computers and quicker 5G connection rates, high-end iPhones will need the VC thermal system. Vapor chamber cooling technology, which keeps a device cooler when it is under a lot of stress, is already employed in smartphones from brands like Samsung, Razer, and LG.
Although it is unknown whether the vapor chamber thermal system will satisfy Apple's exacting standards, the company is attempting to improve it, and high-end models may soon use it.
A16 Chip
Normally, newer A-series chips are included in new versions of the iPhone, but Apple may buck tradition this year. Only the iPhone 14 Pro versions will have the new and speedier A16 chip, claims Apple expert Ming-Chi Kuo.
A substantial distinction between the Pro and non-Pro iPhones will be made in 2022, according to Kuo, who claims that the standard iPhone 14 models will continue to employ the same A15 Bionic that is in the iPhone 13 models. This rumor has also been confirmed by other sources.
Car Crash Detection
For the iPhone and Apple Watch, Apple is developing an auto crash detection technology that may debut in 2022. When a car collision occurs, it will employ sensors like the accelerometer to measure a surge in gravitational force and alert the user.
The iPhone or Apple Watch would immediately contact emergency services to request assistance when a car crash is detected. This feature may have been created for the iPhone 14 models and the Apple Watch Series 8 because it is scheduled for release in 2022, although it is unlikely to be restricted to those models alone. The Fall Detection function seen in current Apple Watch and iPhone devices will be expanded upon.
Snapdragon X65 Modem
The Qualcomm Snapdragon X65 modem, the first 10 Gigabit 5G modem and antenna network for smartphones in the world, will be used in the iPhone 14 models.
WiFi 6E
Ming-Chi Kuo, an Apple analyst, predicts that WiFi 6E connectivity will be included on the iPhone 14. The high-speed wireless communications required for AR and VR experiences, according to Kuo, will be provided by WiFi 6E. This technology is also anticipated to be employed in the mixed reality headgear, which might be released in 2022.
WiFi 6E offers the speed improvement and low latency offered by WiFi 6 while utilizing the 6GHz frequency in addition to the 2.4GHz and 5GHz channels to increase bandwidth and reduce interference.
***All this information was collected from different sources.***