Can international student apply for student loan in USA
Always carefully consider how much money you will require to attend an American university. Then, you'll need to look into and submit applications for scholarship, financial aid through your school, and any other available funding options, such as finances from your family. Most overseas students still need money after exploring these options, and that's where we get the question about international student loans?
What is an International Student Loan?
The federal student loans are popular among US citizens pursuing higher education in the US, but they are not accessible to foreign students. International students can instead apply for private, specialist loans for education called international student loans for study abroad in the US.
Today, borrowing money for international students is a highly viable option for paying for your study in the US. The repayment terms and interest rates for loans can be extended so you can manage the payback after you graduate, and they can give loan amounts high enough to cover the cost of your whole education.
What is Cosigners?
Most foreign students applying for loans need a cosigner who is a citizen of the United States. If the borrower defaults on the loan, the cosigner is contractually bound to pay it back. A legal US resident with excellent credit who has resided in the country for the previous two years must cosign the loan. Since most international students are unable to obtain credit on their own, the cosigner is frequently a close family member or friend who can help. Whether you are unable to obtain a cosigner, check to see if you qualify for any cosigner loans.
Cosigner Required for Most (But Not All) Applicants
Most lenders demand that international students have a US cosigner because they do not have credit histories in the US. A cosigner is someone who is legally able to sign loan documents or other paperwork to support the other person in getting a loan. The cosigner must be a US resident or permanent citizen with solid credit, a history of reliable income, and two years of residence in the country.
In the event that the borrower is unable to make timely payments on their loans, the cosigner formally agrees to share responsibility for loan repayment.
Certain lenders won't want a cosigner if you meet certain requirements, such as being enrolled in a qualifying institution, exhibiting a high level of career potential, and intending to graduate within the following two years.
To find out if you qualify to apply for a mortgage without a cosigner, visit our loan comparison tool.
——————————
📂 Important Links:
——————————
>> Learn Graphics Design & Make A Successful Profession.
>> Canva Makes Graphics Design Easy.
>> Start Freelancing Today & Earn Money.
>> Make Video Editing As Your Profession.
Loan Details?
You might need to find extra financial aid to make your ambition of studying in the US a reality. For this reason, we have created a tool that compares all private lenders who offer loans to international students. We have streamlined the procedure by comparing lenders in the United States to those that will help fund your education.
Application Process?
Simply by conducting a loan comparison to determine which lender is most suitable for you, you can start the loan application process. You and your co-signer must fully fill out the online application in order for the procedure to get along as swiftly as feasible. It usually takes 2–6 weeks from initial permission for credit to receive a credit approval or denial.
Want to study in Canada?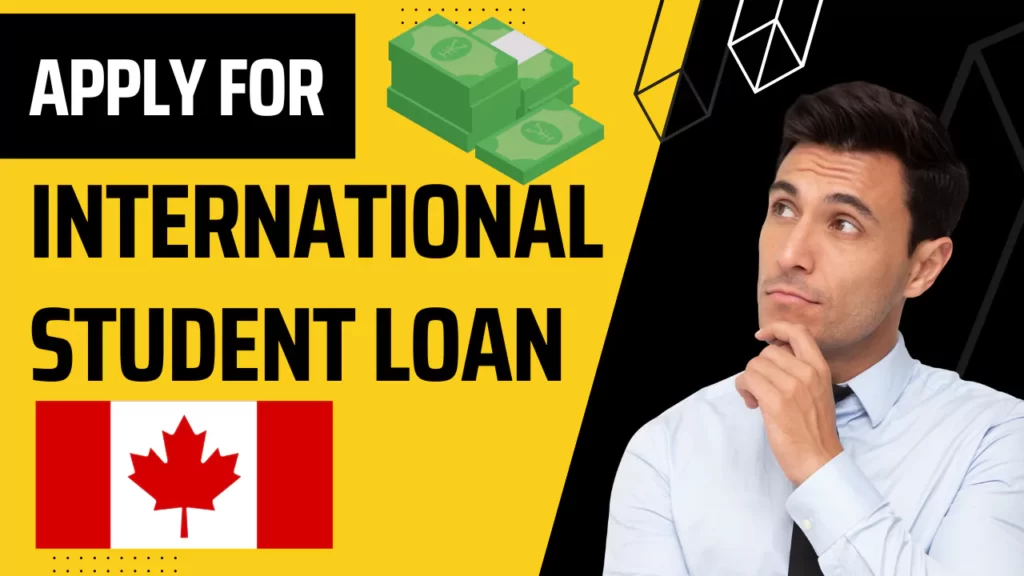 Interest Rates Explained
In addition to the money you borrowed, the lender will also charge you interest. The interest rate is determined using an average plus a margin that adds a percentage interest rate based on the creditworthiness of your co-signer. The Prime Rate and LIBOR Rate are the two indices that are most frequently utilized for foreign students.
Prime Interest Rate – The federal funds rate, regulated by the US Federal Reserve, is what determines this index.
LIBOR – The British Bankers' Association is the source of the LIBOR (London Interbank Offered Rate), which is utilized in the London interbank market. The rate is an average of the overnight and one-year interbank deposit rates offered by the most creditworthy banks in the world.
The lender will specify the index the plan employs when assessing the loan. Then, a further margin will be applied based on the borrower's specific requirements, including the credit history of the co-signer. An extra interest rate will be charged to the index based on their creditworthiness. The total interest you owe will be this. You will be informed of your precise margin after your application is accepted, at which moment you can decide whether or not to accept the loan.
Repayment Explained
Depending on the lender and loan choice you select, the repayment conditions may change. Since most students are unable to find employment while studying in the United States, this is a crucial component of a loan. Because of this, it's crucial to think about the amount of the monthly installments, when they start, and how long you might be able to put off repaying back the loan. The normal repayment time is 10 to 25 years, but the longer the repayment period, the higher the loan.
Based on the loan you choose, the following common repayment alternatives are available:
Full Deferral – As long as they are enrolled full-time, students may postpone paying the interest and principle until six months after graduating. For a maximum of four consecutive years—the average length of a degree—students may postpone payments.
Interest Only – You can defer the principal payment until 45 days after graduation and just pay the interest while you're still enrolled for up to 4 continuous years of full-time study. If you reduce your course load to part-time, you could have to pay back the principle right away.
Immediate Repayment – Once the loan has been approved and disbursed, both interest and principal payments are immediately payable.
Frequently Asking Questions
Who is eligible to apply for international student loans?
Students who are attending an appropriate US institution or university who are neither US citizens or permanent residents are eligible to apply for international student loans.
What can be done with loans for international students?
International student loans can be utilized to cover costs associated with attending school, including tuition, books, fees, insurance, and board.
How much amount can I apply for in a loan?
You are eligible to request funding up to the entire cost of your education, less any financial aid assessed by your institution. You must speak with the financial aid office at your school to find out your maximum loan amount. Your school must verify the loan amount once you have applied and received credit approval for both you and your co-signer.